Gilded Items
Gold applied to carved work has a radiance and depth, whether matte or burnished, that is like nothing else. It even looks good when it's nearly all worn away!
Preparing a surface suitable for laying gold is an art itself and is today essentially unchanged from centuries ago. Working with the glue, gesso and clay is both a challenge and a joy, and the variety of effects that can be achieved with them is remarkable.
Besides genuine gold, imitation gold, silver and other types of metal leaf like copper can be used to create striking effects.
This rococo style frame measures 40" wide and 50" high. It was created using a single photograph provided by the customer. It is water gilt in 23 kt gold, burnished and distressed.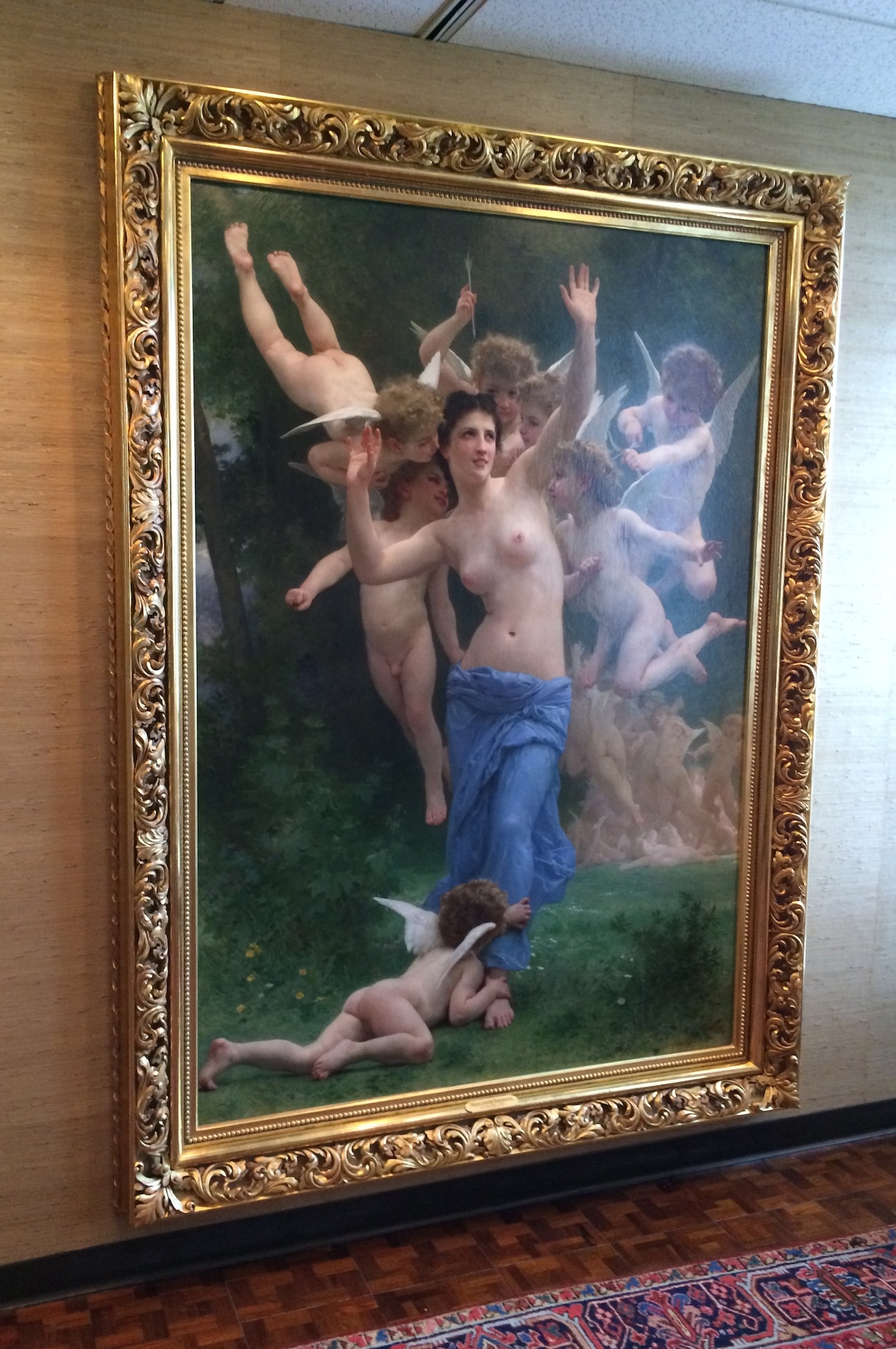 This frame is my own design. It features a pierced frieze in a repeating acanthus pattern situated over a large cove molding. This intended to reflect the movement and depth of the painting. The leaves in the four corners of the frame can be found in the painting's background. Nearer the sight edge is a highly burnished rail, of an oval profile that is deeply undercut. A ribbon and rod pattern finishes the outermost edge. The overall dimensions are 72" wide and 96 1/2" high. The limitations of the access to this space meant that the frame had to break down into two "L"s - separating at opposite corners, then assembled and mounted on site.
A corner detail of the acanthus frame.
This is a copy of a 1765 Thomas Chippendale mirror created by using the original piece for the patterns as well as all other details - the color of the bole, the gold, and the nature of the distressing. It measures about 42" wide and 78" high. It is installed in the same room with the original mirror.
Detail of the Chippendale Mirror copy.
One of a pair of pelmets based on a design by Thomas Chippendale. The patterns were created using photographs provided by the customer.
This shell began as a block made up of thirty-six pieces of wood similar to the staves of a barrel. The gilding here is both genuine and imitation gold, the burnished areas are genuine gold. This shell is lighted by dimmable miniature incandescent bulbs.
Here are book presentation and award boxes, of my design, featuring reverse painted and gilded glass faces surrounded by water gilt and burnished frames. The outer face of the box lifts off to reveal a book display easel. The interior is lined in book cloth, the back is finished in French book binding paper.